The Minnesota Trade Office selects Yanmar Compact Equipment North America (Yanmar CE NA), encompassing the Yanmar Compact Equipment and ASV brands, as a recipient of the 2022 Governor's International Trade Award in the Large Company category. The prestigious award honors companies that have made foreign direct investments in Minnesota with a continued likelihood of growth. The award stems from Yanmar CE NA's upcoming 32,000-square-foot expansion project in Grand Rapids, Minnesota. Governor Tim Walz presented the award to Yanmar CE NA president, Tate Johnson, on December 14, 2022, at the InterContinental MSP in Minneapolis and a local event will be held to celebrate on February 6, 2023.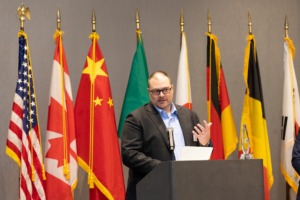 "The ASV brand, which is now part of Yanmar, has been based in Minnesota since its start in 1983, and we are proud to have spread deep roots in Grand Rapids, Minnesota," Johnson said. "We are honored to be a recipient of the Governor's International Trade Award as a symbol of our investment in Minnesota. This period of growth within our company has created a positive effect on Minnesota's economy, and we look forward to continued improvements for Yanmar CE NA with the acceptance of this award."
Applicants for the Governor's International Trade Award are judged on a variety of criteria including significant advancement in exports to foreign markets as well as exceptional economic contributions through investments in the state of Minnesota.  From there, the state reviews each submission and selects the top companies. Yanmar CE NA's 2022 acceptance of this honor marks the 37th annual distribution of the Governor's International Trade Award.
Yanmar CE NA will break ground in Spring 2023 on an expansion to its Grand Rapids, Minnesota facility. The expansion will include a new building containing an enhanced paint system and is funded by an investment from Yanmar Co. Ltd., as well as several city, county and state grants and loans. The added space will also allow for site improvements, assembly layout adjustments and optimized factory material flow. Long-term, this project will enable Yanmar CE NA to add hundreds of jobs to the Grand Rapids, Minnesota area.
The project is estimated to be completed in the spring of 2024.