Benefits of Adding the Smallest Compact Track Loaders to Your Fleet
Compact track loaders are one of a jobsite's most versatile tools, providing contractors with nearly endless application options and a gateway to new business for both rental centers and contractors. To maximize opportunities, rental houses and contractors should consider adding the industry's smallest sit-in track loaders to their fleets.
Improve Equipment Utilization
In terms of application versatility, small sit-in compact track loaders are extremely valuable. The smallest models — our RT-25 and RT-40 — are only about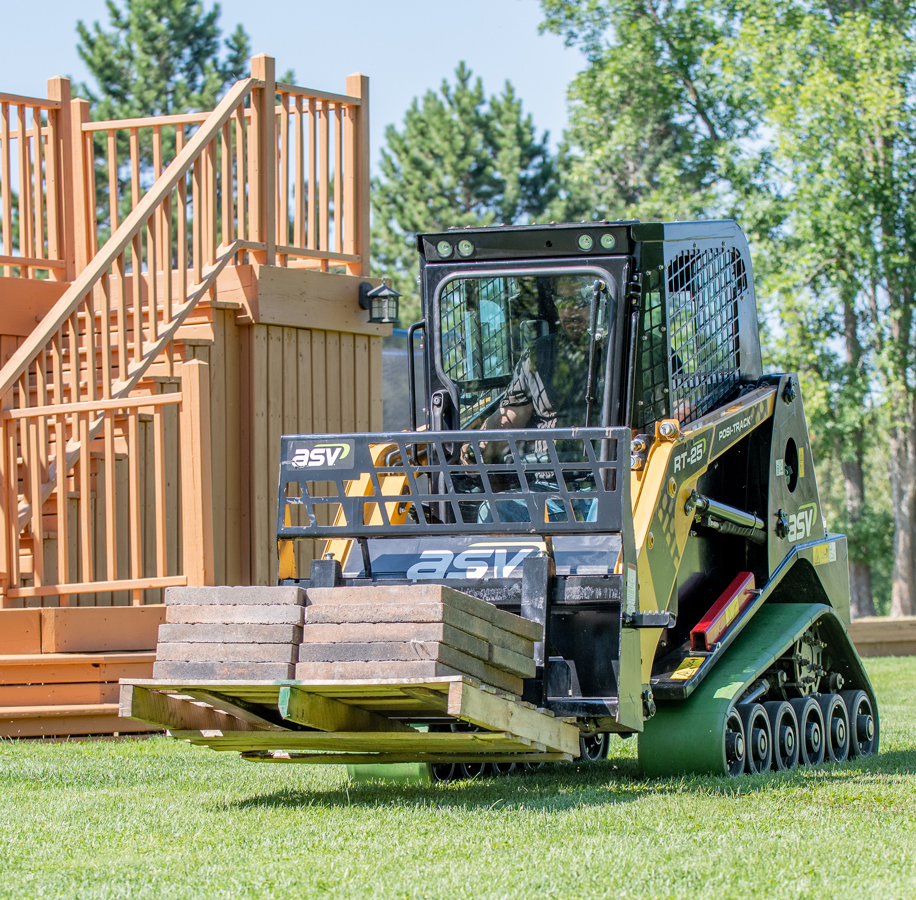 4 feet wide, giving them access to tight areas that would be difficult for larger equipment. They fit through many gates and below some jacked up houses, making them useful for a number of applications in new housing developments. They also feature speeds almost two times faster than walk-behind and stand-on loaders along with rated operating capacities as much as 931 pounds, providing a safer, more efficient choice for a variety of projects.
Sit-in loaders can also minimize turf and property damage, making them an all-season solution. ASV models feature a unique undercarriage that provides a ground pressure 25% lower than walk-behind and stand-on loaders — only 3.1 psi. This equates to less risk of turf damage and better flotation on soft surfaces. In the winter, sit-in loaders excel at clearing snow in alleyways, small parking lots, driveways or sidewalks where they pose less risk of property damage and can speed up the job — while keeping operators warm with a heated cabin.
Provide Safer, Easy-to-Use Equipment
Inexperienced operators are a big risk for contractors and rental centers. Walk-behind and stand-on loaders, while popular, present significant safety concerns for novice operators. Such equipment, when used improperly, may be prone to tipping. The operator is also without protection from debris, branches or other obstacles. In comparison, ASV compact track loaders have ROPS and FOPS rated cabs, allowing for excellent protection from rollovers or falling objects.
Sit-in loaders with intuitive controls and user-friendly design features can make safe operation easier, as well. Equipment with standard joystick controls, rather than dual-lever foot or H-Pattern controls, is easily mastered by both novice and experienced operators. 360-degree visibility, available on some models, makes it easy to identify safety risks from any direction. And similar control systems across brands and models adds an extra level of comfort, since anyone who's operated a larger unit can easily recognize most operating features.
Many of the same features that make a compact track loader safer than a walk-behind or stand-on loader also increase comfort and productivity. Padded seats and a pressurized cab outfitted with HVAC and a radio improves the overall experience. ASV machines feature independent torsion axles and a flexible track, offering increased comfort over walk-behind and stand-on versions.
Save on Maintenance
Ease of service is another benefit from sit-in compact track loaders. These machines are easier to service than their larger counterparts thanks to ground-level access.
ASV units feature an undercarriage with extra track guiding and a flexible high-strength Polycord-embedded track, further reduce maintenance by virtually eliminating derailments. Equipment with an all-rubber track also improves track change-out efficiency and allows a single person to complete the task.
Additional maintenance-saving features include easy access to all maintenance points and loader valves. Look for models with a large rear-tilting hood for quick servicing of filters, oil and fuel tanks and reservoirs, hydraulic and water separator drains, and batteries. Models that don't require exhaust after treatment also save on maintenance. Another feature to watch for is standard metal-face seals on the front and back to ensure the drive hubs don't require maintenance for the life of the machine. ASV machines include all of these features.
Round Out Your Fleet
From new markets and high versatility to excellent rentability and uptime, the industry's smallest compact track loaders can mean big benefits for a rental house or contractor's business and customers.
Visit our product pages to learn more about ASV's RT-25 and RT-40, the industry's smallest sit-in compact track loaders.