ASV Names 2018 Dealer Award Winners
We are excited to announce our 2018 dealer award winners! The awards, presented at the annual dealer meeting, honored top-performing and loyal members of ASV's quickly growing list of dealers.
ASV named Ontario-based Regional Tractor Sales as the 2018 Dealer of the Year due to the company's exceptional sales, performance and loyalty. The family-owned dealer took on the ASV line in 2005 and has worked closely with us ever since.
We also presented CSTK of Kansas and Missouri with the Rookie of the Year award. The new dealer has gone beyond expectations in its market, developing a market strategy, driving sales and brand name awareness.
"ASV is only as good as our dealer network and we depend on every single dealer," said Justin Rupar, ASV vice president of sales and marketing. "We are proud to show our appreciation for these loyal dealers promoting the ASV brand promise in every aspect of their business."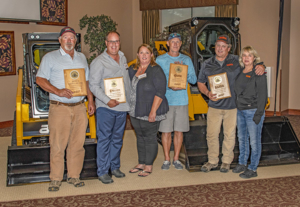 We also presented awards for 20-year dealers. Recipients included Alberta-based Barda Equipment and Wisconsin-based Duffy's Sales & Rental.
Here's the full list of award recipients:
Dealer of the Year: Regional Tractor Sales
Rookie of the Year: CSTK
20-Year Dealers:
Barda Equipment
Duffy's Sales & Rental
10-Year Dealers:
Forestry 21
Bruggink's Inc.
Pacific Tractor & Implement
Ritenour Equipment Center, Inc.
JGE Equipment
FMI Equipment
Regional Tractor Sales
Brainerd General Rental
Alive Outdoor Service
Delta Power Equipment
Baschmann Services Inc.
Ahearn Equipment Inc.
Butler Equipment, LLC
Norfolk Power Equipment
B & W Equipment Co., Inc.
Lashley Tractor Sales
Mechanicsville Power Equipment
Roeder Implement Inc.
Central Equipment Inc.
Ward Equipment Sales, LLC
B & M Equipment Rental & Sales
Shuck Implement Co.
Modern Group Ltd.
Coastal Machinery Co.